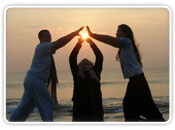 To ensure that Quality work executed in a systematic manner becomes a day-to-day habit, SGSBM has established a Quality Management System. In the Process of establishing the Quality Management Systems, the Institute has analyzed all its Processes of significance and their interactions. The processes include Teaching Process, Mentor Process, Evaluation Process, Feedback Process, library Process and Examination Process. A Quality Manual is Designed and kept for reference in the Department, which explains in detail about all these Processes.

| | |
| --- | --- |
| Inauguration of Women Development cell | Celebrating World Women's day 2011 |
| | |
SGSBM (Women's Development Cell):



With the aim of holding high the spirit of women who study and work, SGSBM has constituted a Women's Development Cell that caters to the welfare as well as addresses the grievances.